It has been a pleasure to interview artist Priya Vadhyar on her art practice and inspiration in conjunction with her first-ever solo exhibit, opening Dec. 3, 2016, at The Drawing Studio.
I got to know Priya Vadhyar in a TDS Getting Art Done class in 2012. The class was more creative circle than art instruction, with guidance from facilitators and lots of sharing and encouragement among the participants. Priya brought humor and a sense of serenity to the group. I admired her courage, inventiveness and openness as she sought her way along the path of abstraction.
Priya studied with a number of TDS artists and instructors during her time in Tucson, including Andrew Rush, Josh Goldberg, Pat Dolan, Lynn Fleischman, Jennifer Clarke, Tom Lindell and Ka Fisher. As student, volunteer, artist, and member of our community, she played a vibrant and inspiring role.
In 2013, Priya and her husband Sandeep moved to Columbia, Maryland. There, she continues to make art and be involved in the local arts community.  
I recently sent her some questions about her evolution as an artist so that those of us who know her — as well as those who are meeting her for the first time — can hear about what she has been up to.  
— Nancy Chilton, TDS instructor
NC: When did you decide to devote yourself to your art? What lead to that decision, and where did that decision lead you?
As a child, I was interested in two things — art and reading. I was the kid who earnestly drew the anatomy of the cockroach or the spirogyra; who thought that art was the most important class of the day; who spent hours in the corner drawing. But art did not occur to me as a career option. Instead I got a bachelor's degree in economics, while painting and drawing in my free time.
The first time I visited an artist's studio was in 2001, just after I graduated from college. I was visiting Port Hartcourt in Nigeria, where my father worked. My mother suggested that we look for an artist who could teach me while I was there. That's how I came to meet Diseye Tantua. I studied oil painting with him over the summer, and working in his studio made me realise that that was what I wanted to do.
I enrolled in a master's program in economics but decided to think over my options. Two years later I had no clear plan, but the real world was beckoning. I started working as an economist, focusing on human development studies. During my first job at Tata Institute of Social Sciences, I enrolled in a 6-month part-time course at J.J. School of Art in Mumbai. The course gave me a good foundation in drawing and confidence in my skills and strengths.
By 2005, my career (which was going reasonably well) was moving toward a PhD and teaching and/or research. But it was clear to me that my heart wasn't in it. So I quit. I decided to focus on art. I took up freelance editorial work, and later worked part-time at a magazine.
I began to find my way as an artist. I tried a lot of things and kept coming back to abstraction. In 2007, I worked on a set of ink paintings — a series of organic forms that came to me spontaneously. I was beginning to understand what I wanted in my work. In 2008, I went to Igatpuri for a 10-day Vipassana meditation course. The experience set in motion a different approach to work: an approach which also resonated with the ink paintings.
In 2010, I moved to Tucson after I got married. By this time, I thought I knew what I wanted from my work, but the way to do it still eluded to me. I approached The Drawing Studio looking for volunteering opportunities. I felt at home with the community of fellow artists and started spending a lot of time there. Eventually I signed up for Josh Goldberg's class hoping to find answers to my questions. And I did. In Josh's class I set subject matter aside and trusted that the expression on the canvas would reveal my inner truth. Josh set the stage for self-discovery and experimentation. He sometimes asked questions in reply to questions, creating a space for introspection and discussion. He encouraged going deeper into the work and cutting the dichotomy between art and life.
My husband Sandeep and I moved to Columbia, Maryland, in the summer of 2013. I turned our second bedroom into a studio and got working on a new set of paintings. Once I settled in, I began volunteering a couple of days a week at an art center close to home. I also started working with ceramics, focusing on the potter's wheel. In 2015, I was selected as the Fall Studio Intern at Pyramid Atlantic Art Center, an organisation that focuses on printmaking, papermaking and the book arts. After the internship, I stayed on as a volunteer. I am now the Special Projects Manager there, an Associate position (work for studio access). I am at Pyramid Atlantic twice a week, and work in my studio the rest of the week.
NC: As an art maker, how do you structure your day?
I paint three to four days a week. On those days my day starts after breakfast. The first thing I do is turn on the Pandora Classical station, and clean my brushes and long glass palette. As a practice, I leave my studio the previous day with brushes in jars of water. I also leave the palette as is after storing leftover paint. The ritual of cleaning my tools gets me into a rhythm and removes me from the picture. It removes thoughts about failing. While setting up I start looking at the many in-progress paintings. By this point, I'm just responding to what feels right. I choose a piece and set it on the easel or up on the wall, and then just look at the painting. It's at this point that I start painting. I usually work from 10 AM until 5 PM or so.
About twice a week I work at Pyramid Atlantic Art Center. Some of the things I work on as Special Projects Manager include the monthly newsletter, special events and helping the Artistic Director with tasks relating to the management of the art center.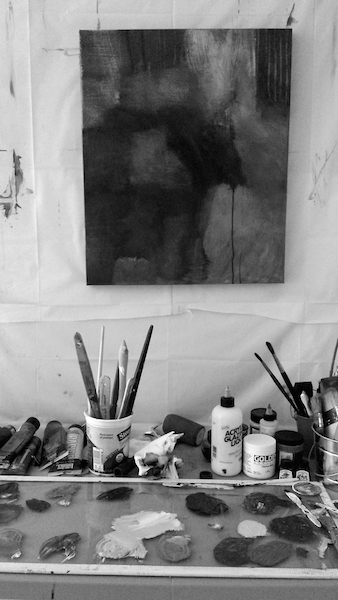 NC: Do you ever feel stuck? What do you do (or not do) when that happens?
Yes. Sometimes I feel stuck with a specific piece. But sometimes I feel stuck in a larger sense. On those days there is a reluctance to begin working. I deal with this impasse in a number of ways.
Sometimes I'll just change gears. If an artwork is not going anywhere, I will go to another painting. If going nowhere seems to be the theme of the day, I'll read or write – look for inspiration in writers and artists I love, or write to delve into whatever is troubling me. Sometimes I'll potter around the studio – cleaning a table, or organising canvases or moving things around always helps me remove myself from the picture (usually the cause of feeling stuck). Then there are days when I embrace the discomfort of being stuck. I stay with that discomfort without reacting (mentally or by action). I sit in front of the painting, waiting for the answer to come. Just looking at a work in progress can be the best solution. You suddenly see something you missed, opening up possibilities.
NC: What and who nourish/inspire your creative life?
What: The idea of becoming, change and constancy, impermanence, time, emptiness, relative size, the sense of distance, continuum, non-duality, silence and stillness, solitude, birds, poetry, music
Who: Georgia O'Keefe, Andy Goldsworthy, Susan Rothenberg, Ursula Van Rydingsvard, Cy Twombly, Richard Serra,Helen Frankenthaler, Marina Abramovic, Gerhard Richter, John Cage, S. H. Raza, Krishen Khanna, V. S. Gaitonde, Anna Schuleit Haber, Ina Puchala, Josh Goldberg, Virginia Woolf, John Muir, Patti Smith, Maya Angelou, Annie Dillard, Paul Auster, David Mitchell, Mary Oliver, Eric Satie, Chopin, Philip Glass, Max Richter, Dustin O'Halloran, Radiohead
NC: You have mentioned a love of reading. Writing is also important to you, as is evident from your blog, A Work in Progress. What is the relationship of reading and writing to your artistic practice?
Writing and reading, like painting and looking at art, present the potential of discovery and transformation.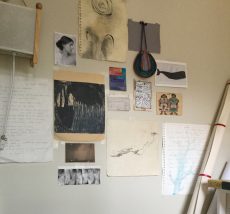 Writing complements my practice as a visual artist. Painting and writing give me poetry. I write to settle my mind, to explore a thought, to play with meter. I enjoy the pauses that are an integral part of both writing and painting. Those pauses, like blank spaces between words or music, have a life their own. It is in that pause that discovery and transformation happen. One sentence leads to another, like steps that lead to a vantage point.
I love to read for all the travel it involves. It is a glimpse into another world, but the lens is our own. Our interpretations are our own, and so are the connections we make. Reading stills you; it lets words and worlds sink into your bones, transforming you.
NC: What is the significance of the title of your show: ((Mountain x Crow x Echo))?
The title of the show first came to me as a title of a painting. It was about the dialogue between the elements of the painting and between the viewer and the painting. The theme continues through the exhibit. ((Mountain x Crow x Echo)) is finally about conversations between the self and the other, and the realisation that there is no separation between the two. It is the act of two beings looking at each other, and in essence becoming the other.
We invite you to come and celebrate Priya and her art this winter at her first-ever solo exhibit.  The show runs Dec. 3 – Jan. 16, 2017. Mark it on your Facebook calendar here.